Yeah…! It is broken, not just horizontally and vertically, also Omni-directionally.


Let us directly get into the subject- Though the result is depressing, this year has been a good belter of 3D-related Telugu-movies. The two 3-dimensional Telugu films of 2013 – AllariNaresh's Action 3D and Kalyan Ram's OM.


Both the films Action3D and Om were touted to be Tollywood's first Comedy and Action 3D films respectively. Despite knowing about the magnitudes and markets of the films, a massive Rs. 25 crores were poured into Om and Rs. 15 crores were spent on Action 3D. But, both the films failed to recover at least 25% of their investment. Though they ensued to be too good in subject but they totally failed to make an impact in fieldwork!


Well thanks for the audience for proving once again that content is the king! While 3D truly added a third dimension and beauty to the already ship-shaped content of the film in 3D films so far! While on the flip side, our films appealed to be too carried away with technology rather than the actual content in it. At the bottom line, an engine is a bogie but a bogie is never an engine... Likewise, 3D can always be an added asset to a film but cannot pull off the film. Anyhow, the attempted directors deserve a special pat on the back for holding the Tollywood flag high though.
And now, director Gunasekhar is coming up with Rudramadevi in 3D. Let us wait and watch how far his stars favor him in breaking this sentiment!
Poll Question
highlights on iQlik
most popular video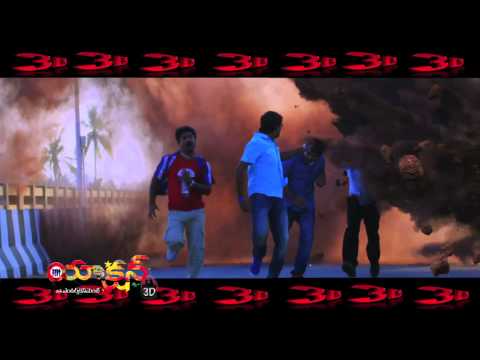 Action Movie 3D Effects Promo