We might have come across many tragic incidents and disappointments every year, but 2013 is undoubtedly hell of a year for TFI. We got quite-a-good number of cheerful incidents this year and in the other dimension, it was also a year of upheaval, as we have lost the Real star of Tollywood- Raghumudri Srihari. In his honor, we would like to dedicate this space in remembrance of the great actor and the good human being.


15th August, 1964 marks the birthday of Srihari, the renowned actor most fondly remembered for his performances in Bhadrachalam, Sri Ramulayya, Sambayya, Kubusam, Dhee, King, Nuvvostavante Nenoddantana and Magadheera. The late actor was well-known for a dominant on-screen character and a munificent off-screen persona. From starting his career as a stunt fighter in 1986 to emerging as one of the most prominent actors of Telugu cinema, Srihari has come a very long way.


Despite several cautions from the doctors, the actor who was suffering from Liver cirrhosis flied to Mumbai for the shooting of a Bollywood film 'R… Rajkumar'. But unfortunately, on 9th October Srihari who complained of giddiness on the movie sets passed away on the same day at Lilavati Hospital, Mumbai. Whatsoever, this catastrophic incident has left a scar on the hearts of every film lover.


"Kammukuntunna Ee Kaaru Chikatlu Ninnu Mingesayi ani Virraveguthunnayi ra...
Nuvvu Mande Suryidivi ani Vaatiki Teledhu
Ee Roju Nuvvu Asthaminchochu Gaaka…
Kaani …
Edho Okaroju Ee Chikati Kadupunu Cheelchukuntu Malli Pudathavu Raa"
highlights on iQlik
most popular video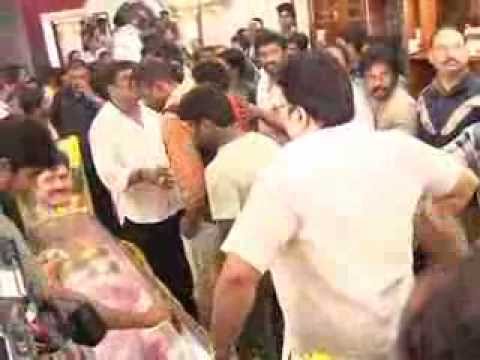 Tollywood pays homage to Srihari