Aagadu movie will have a special place in the history books of Tollywod and will be remembered for its controversies than the content. This film has witnessed the rift between two talented creative individuals – Prakash Raj and Srinu Vaitla.


Prakash Raj kept a press interview and passed strong statement ("Nannu raallu petti kottaku..pattukuni illu kattestanu…") being used as a satire in Aagadu (Sonu Sood utters this same phrase in a scene), Prakash Raj rebukes Srinu Vaitla upon his mediocre and unprofessional making. He questioned Vaitla's talent and caliber for making a film with satires and comments on Pawan Kalyan, Kona Venkat and others in spite of having a big hero and Mahesh Babu in hand. He in turn advised Srinu Vaitla to mend his arrogant and egoistic attitude and rather concentrate on his own work.


He added that he rather pities Srinu Vaitla for his unnecessary focus upon conspiring against him. He reasserted that he has nothing against Mahesh Babu or others and he has several other directors like Puri, Krishna Vamsi et al. "Everyone is here to work. Unlike you, I never wanted to kick you out of this industry. We've worked for Dookudu and I'm ready to work again. But keep your ego aside. Live and let others live" – Prakash Raj gives gyan to Srinu Vaitla.


Entire Telugu film industry got shocked with the serious controversial statement made by Prakash Raj and waited for Srinu Vaitla's reaction. After Prakash Raj voiced out his version before the media Srinu Vaitla came out taking advices from Tollywood director association to clear the air.


Srinu Vaitla has strongly retaliated to Prakash Raj's comments in the press meet.


* About the Pressmeet Poem – "He said it was dedicated to me that day. I felt he truly meant it. Then it is supposed to be mine. So used it!
* About using Pawan Kalyan, NTR – "I adore Pawan Kalyan a lot and Tarak is a very good friend of mine. Why should I be satirical about them? I and Mahesh have clarified several times that those dialogues in Aagadu are not targeted at anyone. So, there is nothing like using Pawan & NTR."

* "He should be ashamed for getting down to negatively publicizing Aagadu when the movie is on its run."


Srinu Vaitla further added that he is not in a position to learn direction from Prakash Raj. He asserted that Mahesh has offered him the film based on his talent and track record. Vaitla also reminded the fact that he did not comment when Prakash Raj's Ulavacharu Biryani failed. However, he hinted that he would work with Prakash Raj if he needs him for a suitable script.


Keeping aside their individual versions, two eminent film personalities engaging in an open verbal brawl is certainly not a good gesture at all. Hope, we can see these two supremely talented, knowledgeable and professional individuals re-uniting shortly – fingers crossed!
Poll Question
most popular video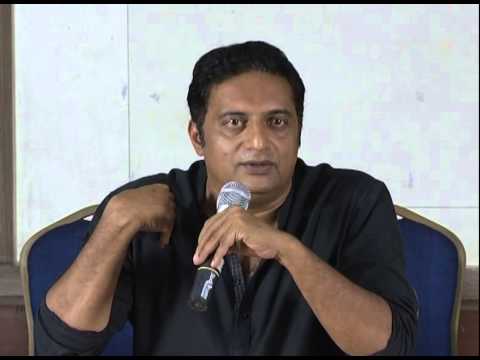 Prakash Raj Press Meet On Controversies