Tenali Ramakrishna is one greatest Historic epics based on the glorious poet from Vijayanagaram Empire. Krishnadevaraya is known for patronage of Arts , Literature and Music during his rule and he used to have a group of nine poets named Ashta Diggajas for the promotion of Literature then. Out of those nine great poets, Tenali Ramakrishna is the wittiest, clever and funny poets Telugu Literature has ever witnessed. Telugu Cinema was widely influenced by this character and the feature film made on him became one of the most admired films made.

Story Details:
Right to the title of the film, it speaks of the journey of Tenali Ramakrishna (ANR) from a village to the glorious Vijayanagara Empire. A great poet with lot of knowledge, but it is his wittiness and smartness outperforms others wherever he goes. Krishnadevaraya (Sr.NTR) gets impressed by these unique qualities in the poet and offers him a place in his court. Things turn serious when Bahmani kingdom plans to trap the Emperor by sending a spy (Bhanumathi) to attract him and know the political plans of Vijayanagara Empire. With Appaji (Gummadi)'s advice, Tenali Ramakrishna saves the kingdom many times with his intelligence and smartness. The rest of the story is about what challenges Tenali Ramakrishna faces during this tenure.

Performances:
ANR is near to perfection as the witty poet Tenali Ramakrishna. His character has different shades right from comedy to seriousness. He looks wonderful in appearance as the historic personality and gives his beyond best for the role. Sr.NTR is picture and histrionic perfect as the Emperor Krishnadevaraya. People started believing it is the Emperor back to life with Sr.NTR. In fact the historians believe that the actual Krishnadevaraya is not as good looking as Sr.NTR in this film! Such was the glamorous impact Sr.NTR gave to the role. Bhanumathi did her best as a spy from Bahmani kingdom and her multi faceted talent came out in this character.

Gummadi is extravagant as Appaji- the Emperor's most close associate. This role was like a prelude for him because he played a full length same role in Mahamantri Timmarusu later.

Technical Aspects:
Music by Vishwanathan Ramamurthy- the greatest duo in South India is another asset for the film. The poems were well captured and the essence was not distorted. Dialogues by Senior Samudrala are another brilliant aspect of the film. This is another film which brought the directorial talent of B.S.Ranga to Telugu Cinema.
ANR Interesting Facts
most popular video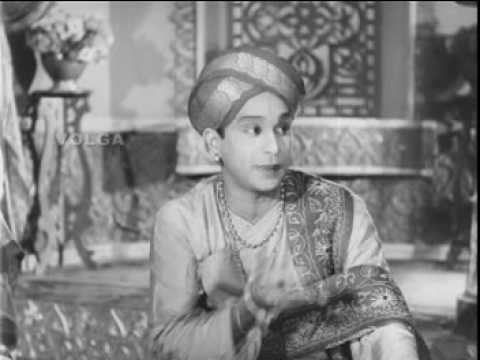 Meka toka mekatokaku toka meka song - Tenali Ramakrishna