Dr.Chakravarthy is one of the most undisputable classics in Telugu Cinema relating to Social Drama genre. Let it be the performances by the lead actors ANR, Savitri and Jagaiah or the fantastic songs- the film will be remembered by every Telugu person forever! This film proved that even Telugu Novels can be looked out for ideal film scripts at an age when Telugu film makers were looking for Bengali novels as base line for their stories. The film is based on Koduri Kousalya Devi's award winning novel Chakrabhramanam. The production house Annapurna successfully made a film adaptation of this fantastic literary work and achieved an unforgettable success. The film has various shades such as Sister Sentiment, Love, Friendship, Jealousy and Realization.

Story Details:
Dr.Chakravarthy (ANR) is a successful medical practitioner. Chakravarthy is professionally well settled, he is always searching for affection in life because his wife (Sowcar Janaki) is highly materialistic and doesn't care much about emotional support or love. It is at this time he meets his friend Ravindra (Jaggiah) and gets instantly impressed by his family for the affections and the value to art they give. He feels at home in Ravindra's house and the hospitality of Ravindra's wife Madhavi (Savitri). Madhavi is a multi talented person who writes, and is into music as well. She feels quite awkward initially to get so many positive compliments from Chakravarthy but later understands that he is in lookout of pure sisterly affection from her but nothing else. Chakravarthy sadly loses his own sister in the past which makes him yearning for such affection all the time.

Things turn in such a way that Ravindra starts misinterpreting Chakravarthy's feelings towards his wife when he goes out of town. The rest of the story is about what will happen to these two couples and whether the misunderstandings clear out.

Performances:
ANR is simply wonderful as the doctor in professional life and a yearning sensitive man in personal life. His histrionics in emotional scenes particularly elevate the flavor of the film amazingly. Savitri shows so many shades of Madhavi in perfect ease such as- The reserved housewife, lovable wife, affectionate sister, depressed wife who gets suspected by her husband – and what not? This is one film which proved why Savitri is called Maha Nati in Telugu Cinema. Jagaiah delivers another classy performance as the man of different shades based on the situations. Sowcar Janaki is at her usual best as the materialistic wife to Chakravarthy. Krishna Kumari, Gummadi, Suryakantham also acted in key roles in the film.

Technical Aspects:
Music by S.Rajeshwara Rao is one of the main lifelines of this classic. Songs like "Manasuna Manasai" , "Neevu Leka Veena", "Paadamani Nannu Adagathaguna" became timeless classics in Tollywood. Dialogues by Acharya Athreya are so sensible and sensitive and hit straight to the audience. Direction by Adurthi Subbarao is fantastic which is crystal clear in every respect- especially sets an example in handling emotional scenes.
Highlights
ANR Interesting Facts
most popular video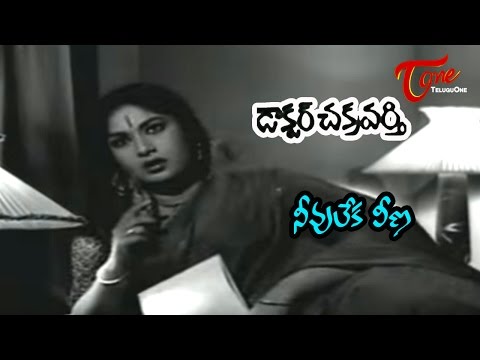 Dr.Chakravarthy Songs - Neevuleka Veena